Kid Business Ideas
Last Updated: October 2, 2018
Kids have access to limited capital to start a business. Besides a parent's investment, a kid will not be able to receive external funding because of their age. Due to this, a kid will need to develop a business idea that requires little to no overhead and limited liability. Parent supervision will also be required to protect both the kid and the customer. Some ideas might require parents to set up online accounts or connect their bank account to a payment processor. When a kid starts their first business, the main focus shouldn't be on making a large sum of money but instead introducing them to the basics of business, getting them excited during the creation process, and improving their communication skills. Although these are a list of limited ideas, KidEntrepreneurship.com encourages kids to create ideas that are related to their passions such as sports, dancing, craft building, or video games.
Follow us @KidBizSchool to see our daily post on business ideas for kids.
Kid Business Ideas
Last Updated: October 2, 2018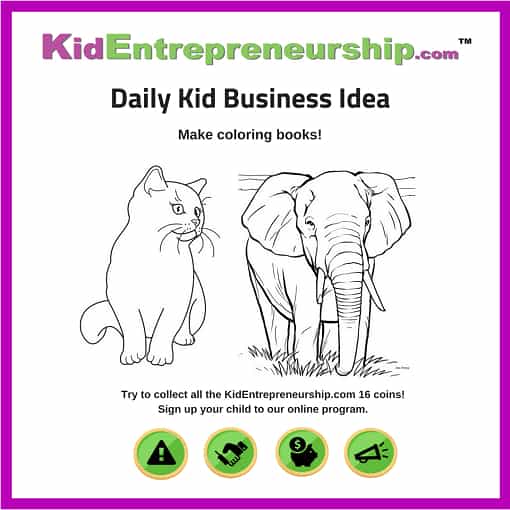 Coloring Book for Kids
Kid Business Ideas
Perfect business idea for children that enjoy drawing. Have your child create a coloring book with a specific theme. Maybe it is a book filled with outlines of safari animals or the beach. Your child can release a new book every season. There can be a winter book with snowmen and a spring book with flowers.  After each drawing is finalized, simply scan it onto a computer to save it digitally. You can then take these drawings and upload them into a self publisher like
lulu.com
.  A great way to market this kid business idea is to create a social media page with posts of all the different drawings.
Photograph Family Events
Kid Business Ideas
Does your child enjoy taking pictures on your smartphone? Your child might have an interest in starting a photography business. Before you go out and buy an expensive camera, have your child learn how to take great pictures with appropriate lighting and spacing. Eventually, your kid can be shooting photos for neighborhood parties, holidays, or city and school events. They can even brand their kid business with a different tagline before a picture instead of "SAY CHEESE!".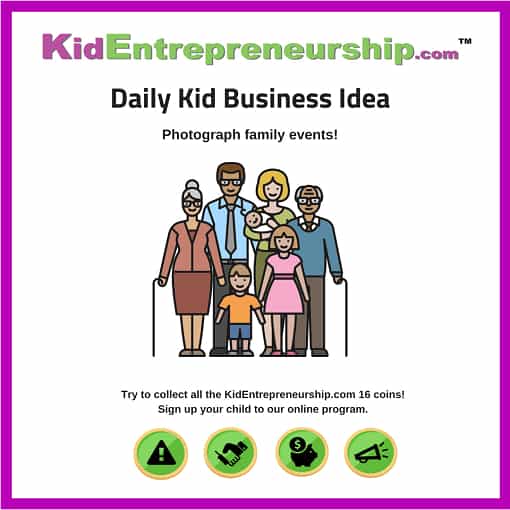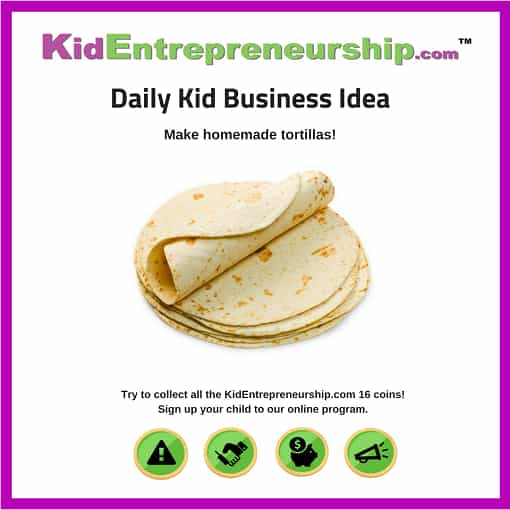 Homemade Tortillas
Kid Business Ideas
This is a great business idea for children that love to cook. You need minimal ingredients which help to keep expenses cheap. Make sure you supervise your child when they are around hot surfaces. Tortillas can be sold to neighbors and family friends. 
Video Game Coach
Kid Business Ideas
Does your kid have a passion for playing video games? Are they good at playing games like Fortnite and World of War Craft. Well they might be able to turn that passion into a business by teaching other kids online how to play. Your child can stream with other children anywhere in the world and show them how to beat certain levels or how to quickly gain more experience. A good internet connection and webcam will be required. One way your child can market their business is by messaging players who have low ranking in a game to see if they would be interested in coaching services.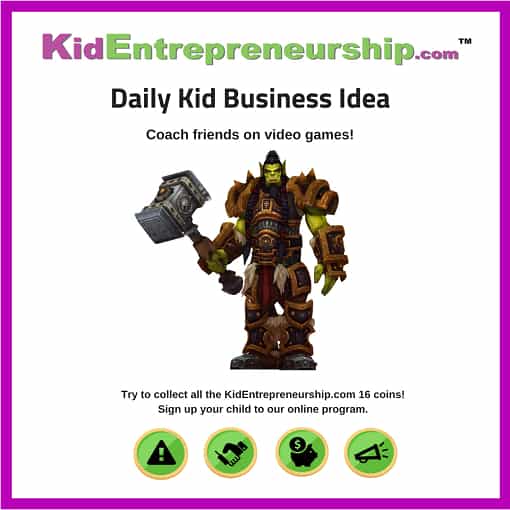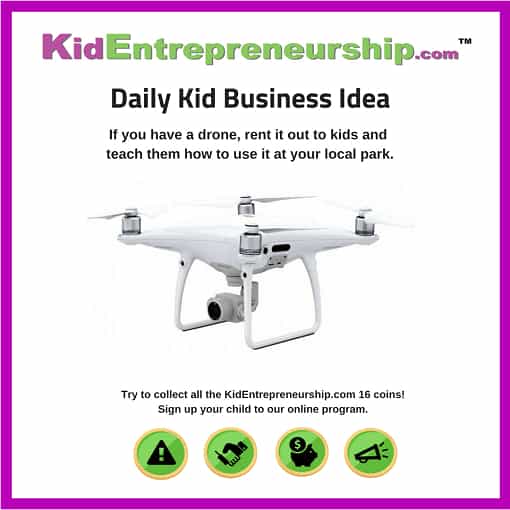 Rent Out Your Drone
Kid Business Ideas
Do you have a drone? The use of drones are on the rise and have become a trendy activity for kids. A great business for a kid with a drone is to rent it out and teach classes on how to use it. The classes should be held in an open area like a park or farm. After teaching someone how to use the drone, you can rent it to them on weekly intervals. Marketing can be accomplished through flyers on doors around the neighborhood.
Wax Neighbors' Surfboards
Kid Business Ideas
Does your child enjoy surfing? Waxing a board can be a hassle. Every surfer wants to always have a clean board with grip. Have your neighbor's drop off their board at your house once a week so you can put on a fresh layer of wax. This business idea has minimal startup costs especially since wax is cheap. A great way to market is to appraoch surfers in the parking lot who just got out of the water.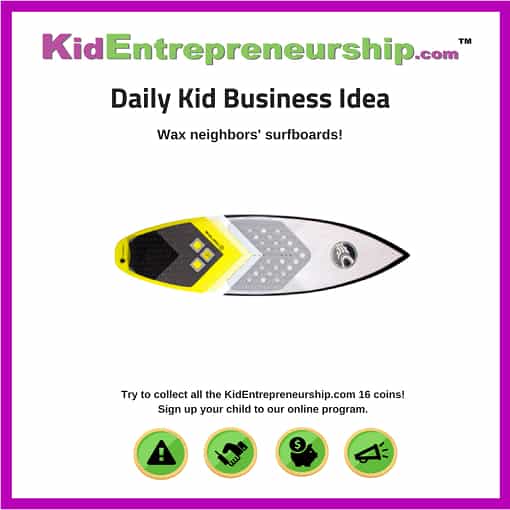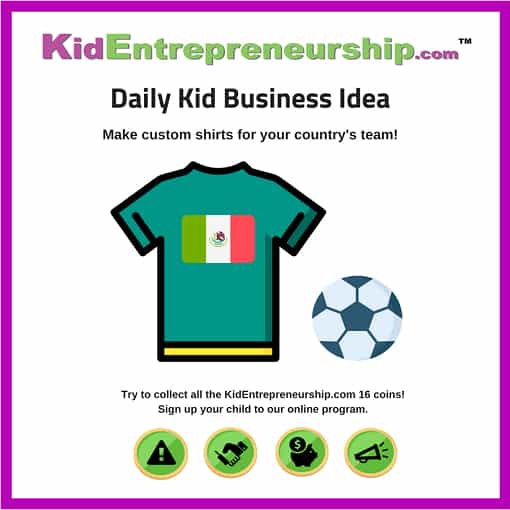 World Cup Shirts
Kid Business Ideas
Like the Olympics, the
FIFA
World Cup is a popular event for people to watch all around the world. Fans become very passionate for their teams and are willing to dress over the top to express their support. A quick business idea could be to create clothing with the branding of popular countries. If your lucky enough to live in the host country, then go outside the stadiums to sell your product.
Beach Parking
Kid Business Ideas
Do you live by the beach? Finding parking can be troublesome especially at popular locations. If you have space available on your property, have your child sell parking by the hour. You could even upsell your customers with a car wash or store their cold food in your refrigerator while they are in the water.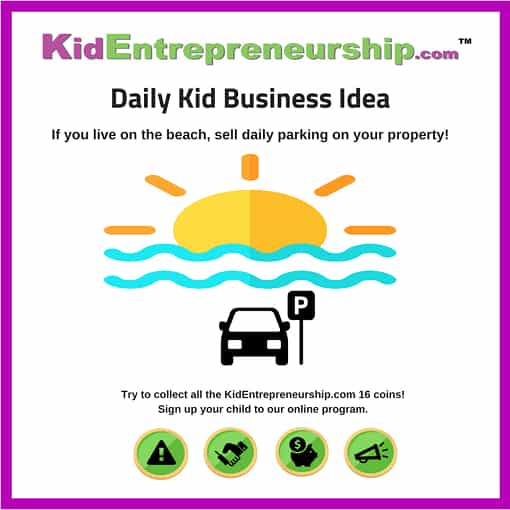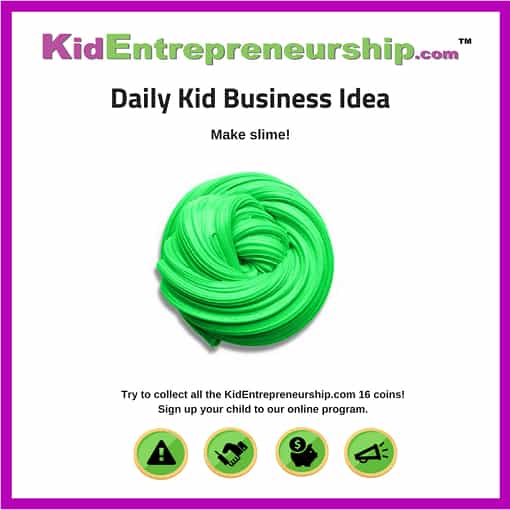 Make Slime
Kid Business Ideas
Slime has become extremely popular among children. It is relatively simple to make and the materials are a small expense. If your child enjoys making slime, have them sell it online. Think of creative ways for them to make their slime unique. For example, maybe they can create glow in the dark slime, magnetic slime, or environmentally friendly slime. Watch
this video
to learn how to make slime.
Walking Sticks
Kid Business Ideas
Do you live in the mountains? Your child probably is used to going on hikes in nature. A popular accessory to have on hikes is a walking stick. Your child can start a business making custom walking sticks. The startup costs for this kid business is next to nothing if you have available sticks around your house. Make sure your child understands how to carve with a knife so they are protected.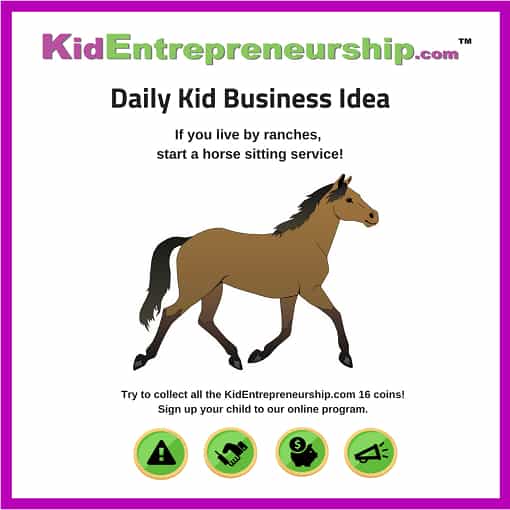 Horse Sitting Service
Kid Business Ideas
Do you live in an area where most of your neighbors have horses? If you do, your child can horse sit while neighbors are busy or go on vacation. It's is important that your child is already comfortable around horses and understands how to be safe. The startup costs can be minimal since you can require your customers to provide all the materials. This kid business is perfect for children passionate about horses!
Babysitting Service
Kid Business Ideas
Is your child old enough to babysit? If they are interested, make sure you enroll them in a CPR class and teach them how to do the heimlich maneuver so they are prepared for an emergency. They will probably also need to have a personal cellphone on them to call 911 in case there is no house home.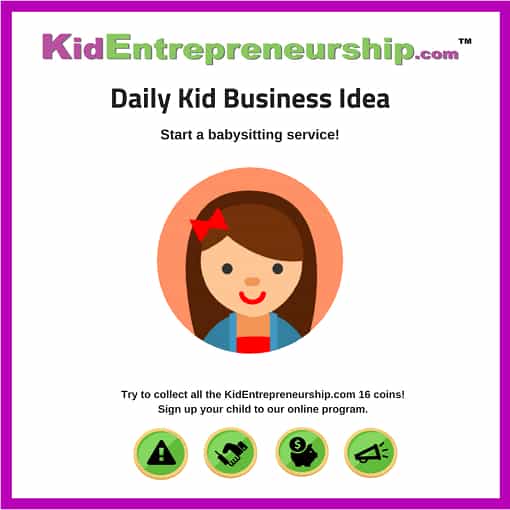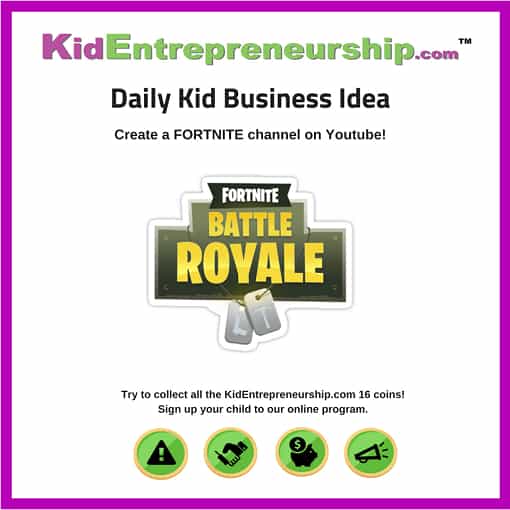 Fortnite Channel
Kid Business Ideas
Is your child always playing the game
Fortnite
? They might be able to make money while they play. Nowadays, it is very popular to stream live games on platforms like
Twitch
and
Youtube
. If your child is good at the game, they might be able to create a following and create a business to monetize the traffic.
Fishing Lures
Kid Business Ideas
Does your child enjoy fishing? Then this kid business idea will be perfect for them. Have your child create custom fishing lures. Maybe your kid knows the best place to put hooks in the lure or the best colors to use. Your child can even test the designs they create by going to your lake to see if they attract fish.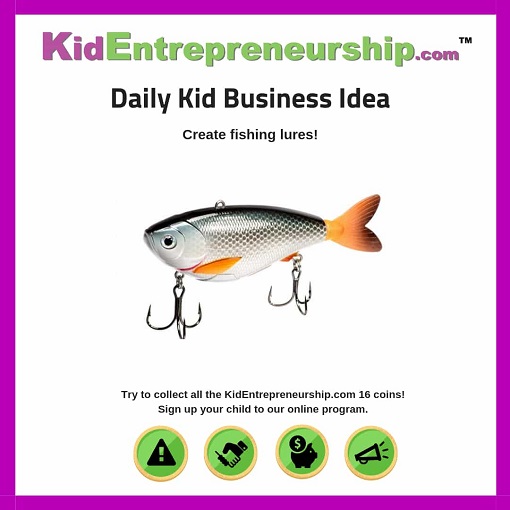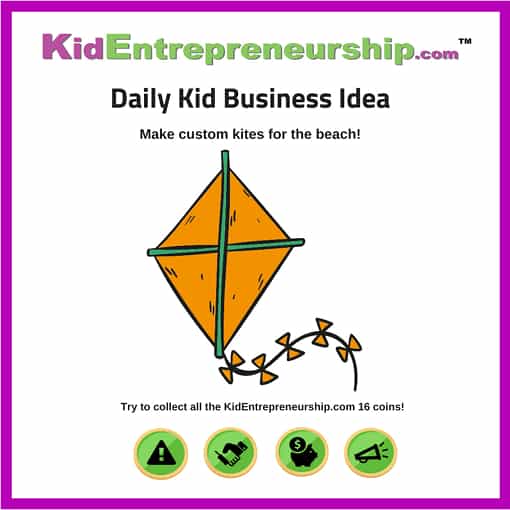 Beach Kites
Kid Business Ideas
Kites are relatively simple to make and are used all around the world. Kids can start this business with minimal expenses and use their creativity to make different designs. Sell the kites at your local beach on windy days.
Calendars
Kid Business Ideas
Most calendars have amazing pictures of different scenes of nature and animals. Your child could start a business creating custom calendars. Have them pick a target market and then brand the calendars for that audience. They could target dog enthusiasts with different pictures of dogs playing.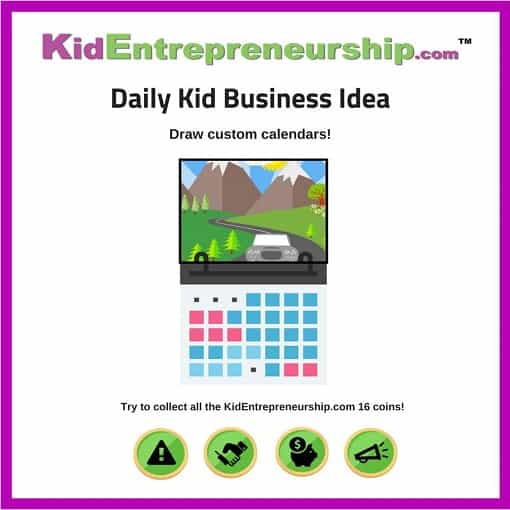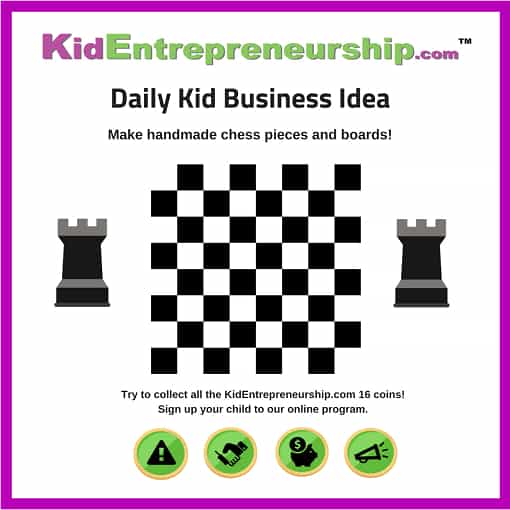 Chess Pieces and Boards
Kid Business Ideas
Chess is a board game that is played all around the world. If your child is passionate about playing chess, have them create custom boards and pieces. These can be created in a variety of ways including carving wood or ceramics. Take the time to polish what they created and take stunning backdrop pictures to help advertise their work on
Instagram
or
Twitter
.
Maple Syrup
Kid Business Ideas
Do you live in New England or Canada and have sugar maple trees in your backyard. Why not create a small home-made maple syrup operation. This will take practice before you understand the process and refine your recipe. However, it can be an enjoyable experience for you and your child to work on. The expression, Money Doesn't Grow on Trees, might not hold up for this idea!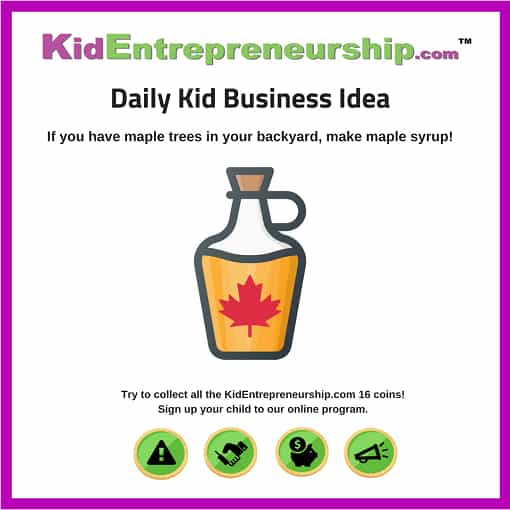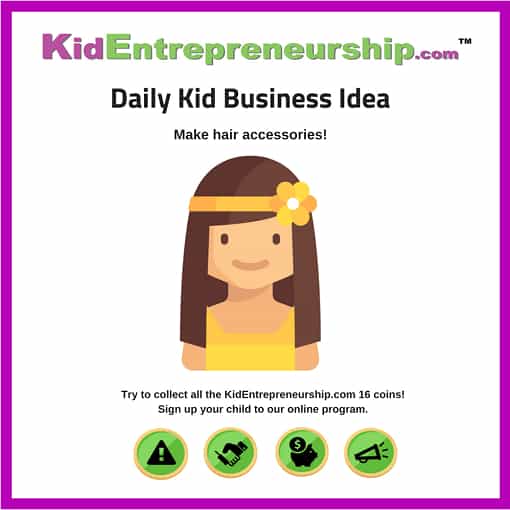 Hair Accessories
Kid Business Ideas
This kid business idea is perfect for young girls. Hair accessories are very popular and can be easily made with materials from your local craft store. Have your child brand their accessories with theme like always using flowers or a certain color. Before you begin to market, give out a few accessories for free to your child's friends to get their feedback on the design.
Backpack Patches
Kid Business Ideas
Kids love to have unique clothes and accessories. A great way to personalize accessories, like a backpack, to put on patches. These patches can express each kid's personality. Some patch sayings could be "I'd rather be surfing" or "Dog Ate My Homework". Test out which sayings would be the most popular among your friend group.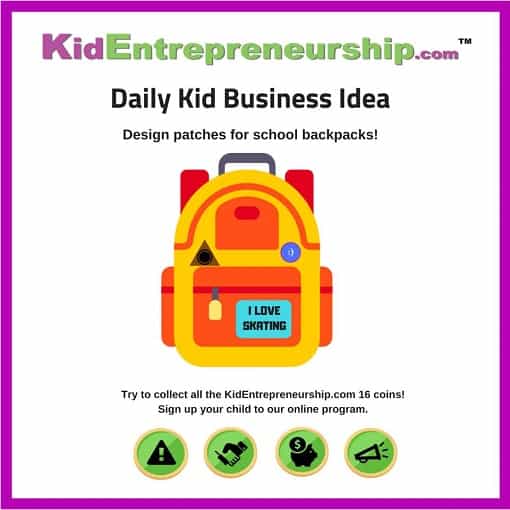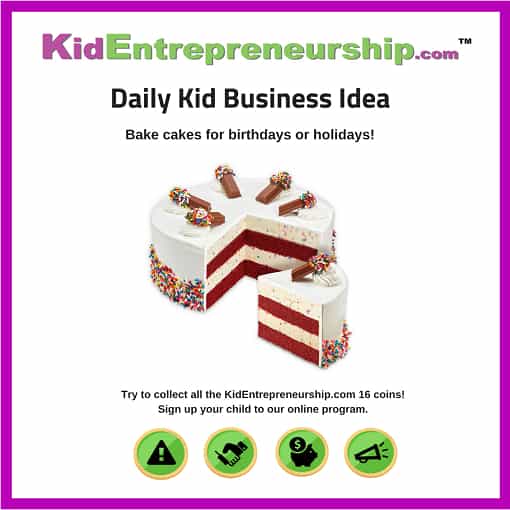 Bake Cakes
Kid Business Ideas
Does your child enjoy making cakes? Have them create custom cakes for birthdays or holidays. Your child's cake business could have multiple categories including no gluten, ice cream, and no dairy. Have them watch the show
Nailed It 
to learn how not to bake a cake.
Sandy Feet From Beach
Kid Business Ideas
Do you live by the beach? Going to the beach is relaxing but the worst part is having to walk back into your car and put on your shoes with sandy feet. Unfortunately, most beaches don't have showers available. Unless you live right on the beach, then bring a tub of water to a beach parking and charge people $1.00 to get their sandy feet washed off.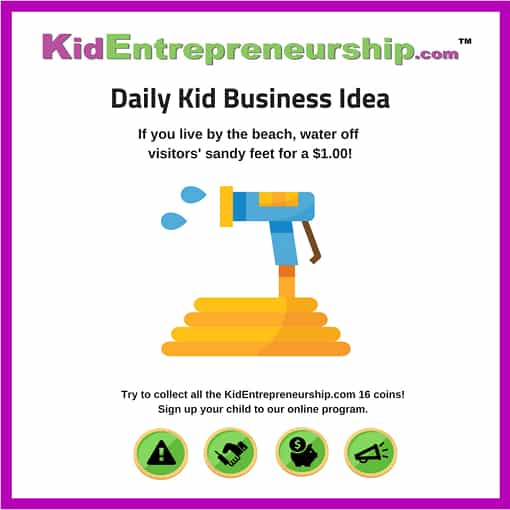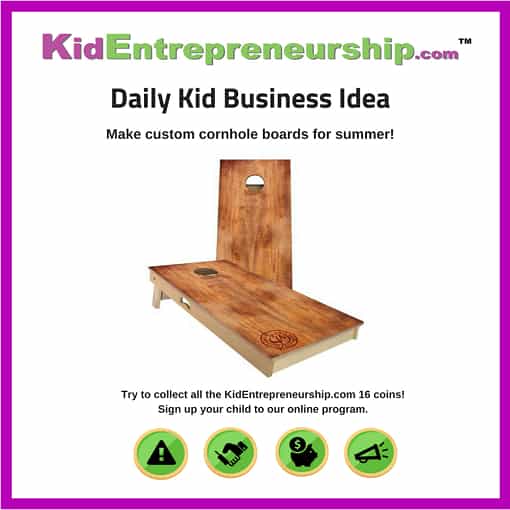 Cornhole Boards
Kid Business Ideas
One of the most popular games for tailgating, your child can start a business that crafts cornhole boards. Have your kid paint the boards the colors of their customers' favorite team. Make sure your child has experience using a saw and other crafting machines. There must be adult supervision.
Clean Golf Clubs
Kid Business Ideas
Do you live in a community with lots of golfers? Golfers love to keep their equipment clean. Have your child start a golf club cleaning business. Simply have golfers drop off their clubs at your house and do a turnaround of service within 24 – 48 hours. Invest in business cards at
VistaPrint.com
and tell each customer to hand them off to their golfing friends.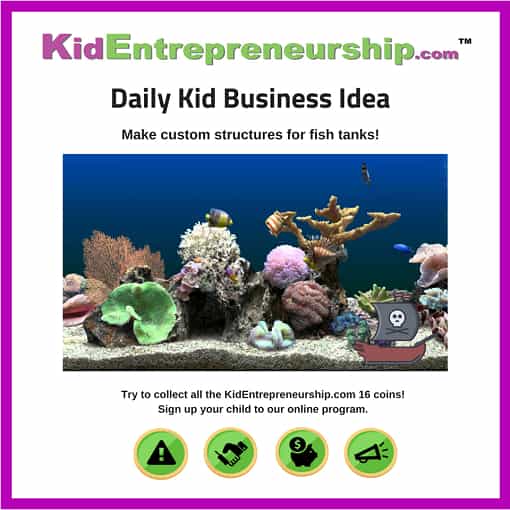 Fish Tank Structures
Kid Business Ideas
Some fish tanks can be extravagant. They might have cool reef structures, sunken pirate ships, and a treasure chest. Your child can create custom structures for these tanks. Maybe design the pyramids in Egypt or a European castle. The ideas are limitless and is the perfect business for a child who enjoys craft building.
Clean Pools
Kid Business Ideas
Is your child already cleaning your pool as a chore? Then it might be time for them to put that skill to good use. If you live in an area with lots of pools, then your child can start a small pool cleaning business. It can be as simple as just picking out the leaves and sticks that fall in. Research what professional pool cleaners charge before you set your price.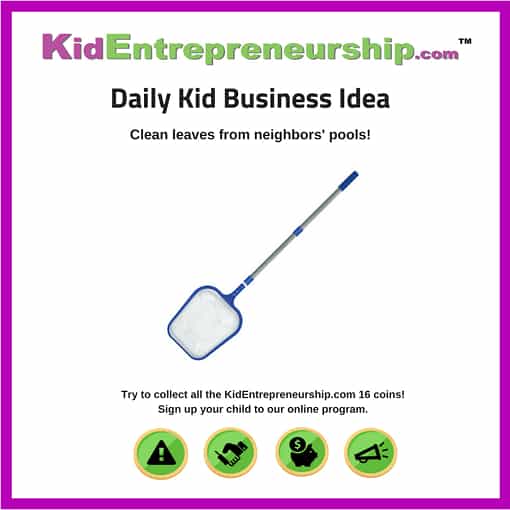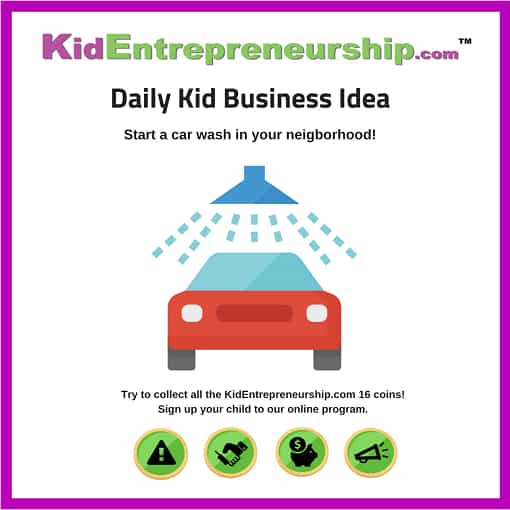 Car Wash
Kid Business Ideas
Another classic business, your kid can wash the outside and inside of neighbors' cars. Make sure your kid wears sunscreen and does not get over heated. The car wash can be located at your house if you have a large property or in partnership with a local business who has a big parking lot.
Maintain Neighbors' Yards
Kid Business Ideas
Your kid can water flowers, rake leaves, shovel snow, and mow the lawn. Remind your kid they should always wear protective gear and sunscreen. This is a great first business to start as you can supervise them while you maintain your own yard. If you don't feel comfortable with your child using a lawn mower, then invest in a push mover. It will build muscle!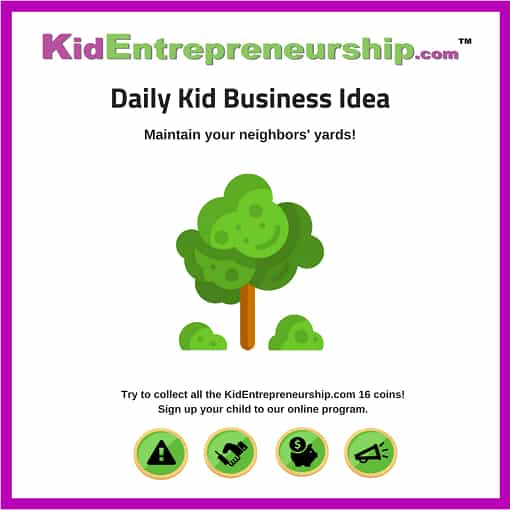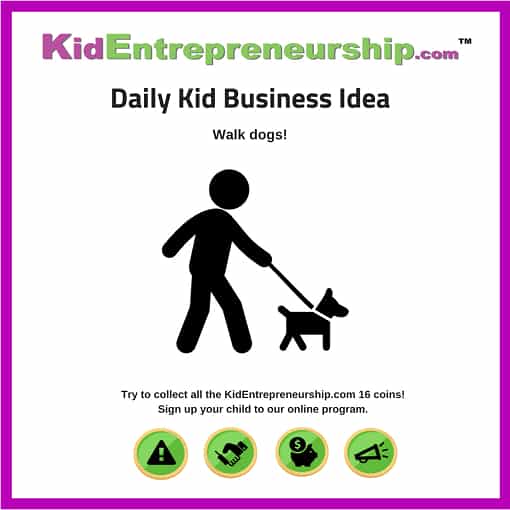 Walk Neighbors' Dogs
Kid Business Ideas
Does your child enjoy dogs? Well why not have them walk dogs around the neighborhood. Make sure your kid understands how to control a dog on a leash. Here is a
great video
to learn how. You should invest in dog bags so your local neighborhood is kept clean. To market, post flyers of your dog walking service on street signs around your neighborhood.
Run Recycling Program
Kid Business Ideas
Your kid can collect bottles from neighbors and dispense them for money at local recycling centers. Make sure your kid wears protective gloves so they do not get cut from broken glass. You could create a business model where each house rents a small trash can from you that is specifically for plastic and glass bottles. Then to encourage them to recycle, you can say you'll give them back 25% of the profits you make at the recycling center from their bottles.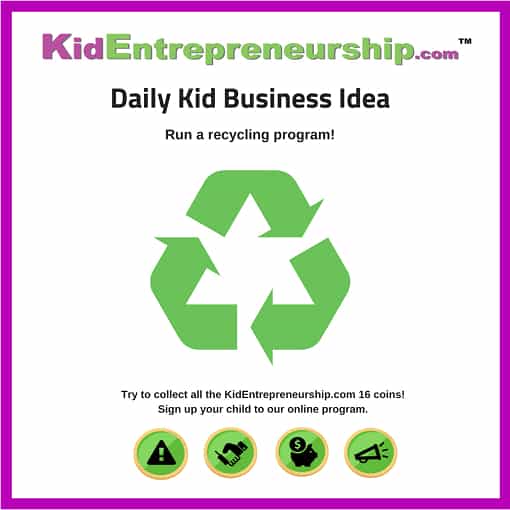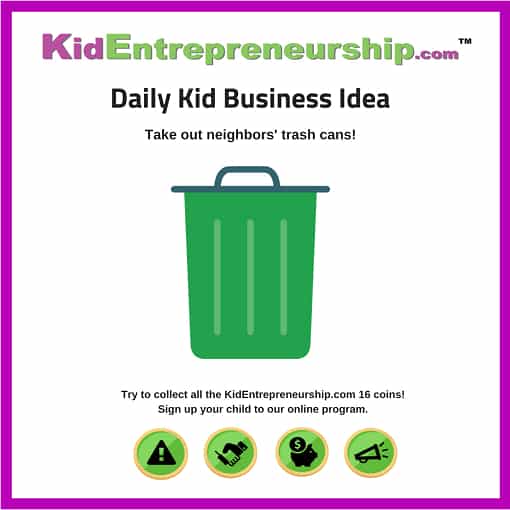 Take Out Neighbors' Trash Cans
Kid Business Ideas
Your kid can be responsible for taking in and out the trash cans for neighbors every week. Make sure your kid is strong enough to wheel out a heavy can. If your trashcans don't have wheels, then invest in a dolly so your child does not hurt their back. This is another business that you can easily supervise while you take out your own cans.
Give Reviews of Kid Products
Kid Business Ideas
All companies value reviews of their products. They especially love a review when it comes from their target market. Your kid can review the pros and cons of different kid products and earn money through affiliate programs. Have your kid simply email businesses that sell youth products to see if they would be interested.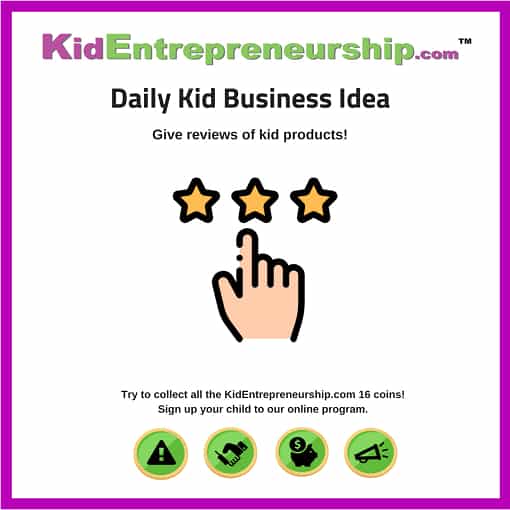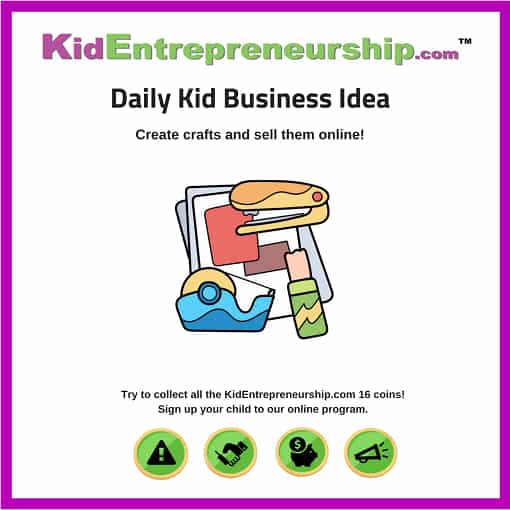 Create Crafts
Kid Business Ideas
Your kid can create crafts and sell them online on websites like
Etsy.com
. Create crafts that are relevant for current holidays. Brand your crafts be using the same materials, whether its the rocks around your house or the leaves on your trees. Choose a craft that you enjoy creating the most. Look at what is trending right now on
Etsy.com
for ideas on where to start.
Start Crowdfunding Campaign
Kid Business Ideas
Assist others in raising money online. If one of their ideas requires additional capital, help them create a crowdfunding campaign. Remember in order to make your campaign successful, you need to have great content and get traction through your current network. Go onto websites like
KickStarter.com
to view current campaigns that are successful.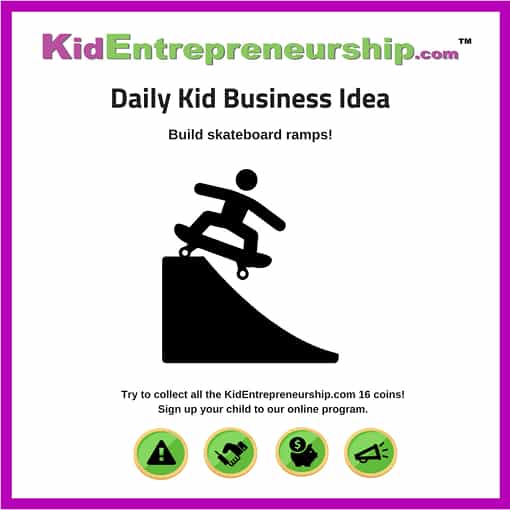 Build Skateboard Ramps
Kid Business Ideas
Is your child trying to get sponsored skateboarding? They might be making there own ramps and rails to practice on. If they are, a great business for them is to make ramps for friends. To market, have your child go to local skate parks to spark interest in fellow skaters. Your child can allow requests for custom colors or stickers on the ramps.
Lanyards
Kid Business Ideas
Lanyards are popular for holding keys or cards. There are usually made with different designs like colors of sport teams, universities, or even promoting a cause. Lanyards are relatively simple to make which make them an easy product for kids to sell for their first business. You could think of a relevant issues in politics to use on lanyards. To sell this idea, it might be helpful to post a table in an area with high foot traffic so you can increase your selling chances.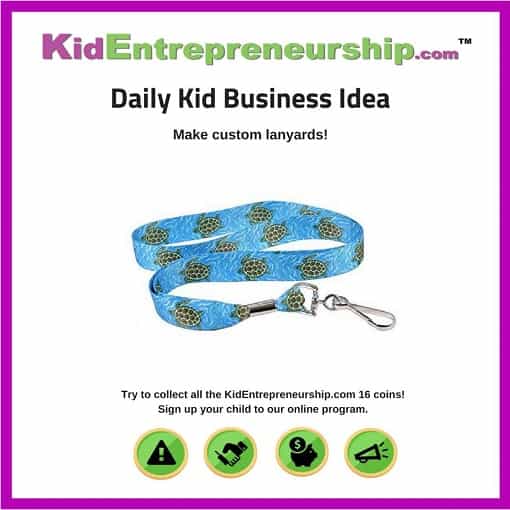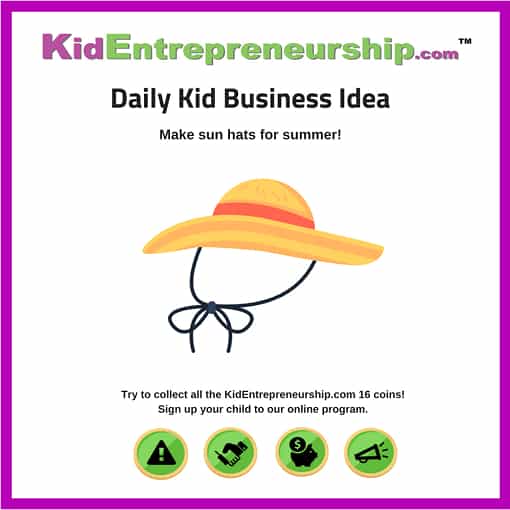 Sun Hats
Kid Business Ideas
Does your child love wearing hats? They can start a business creating their own. Create hats for different seasons. For the summer the hats can be wider to cover sun rays and for the winter the hats can have wool inside. Get creative with the designing. For example, summer hats can have floral and shell designs.
Identifier Tags
Kid Business Ideas
It seems that everyone has the same black suitcase at the airport nowadays. You need a way to differentiate your bag to make sure someone doesn't accidentally take it at the baggage carousel. Your kid can start a business creating custom identifier tags. This idea is perfect for a creative child since there are limitless design possibilities.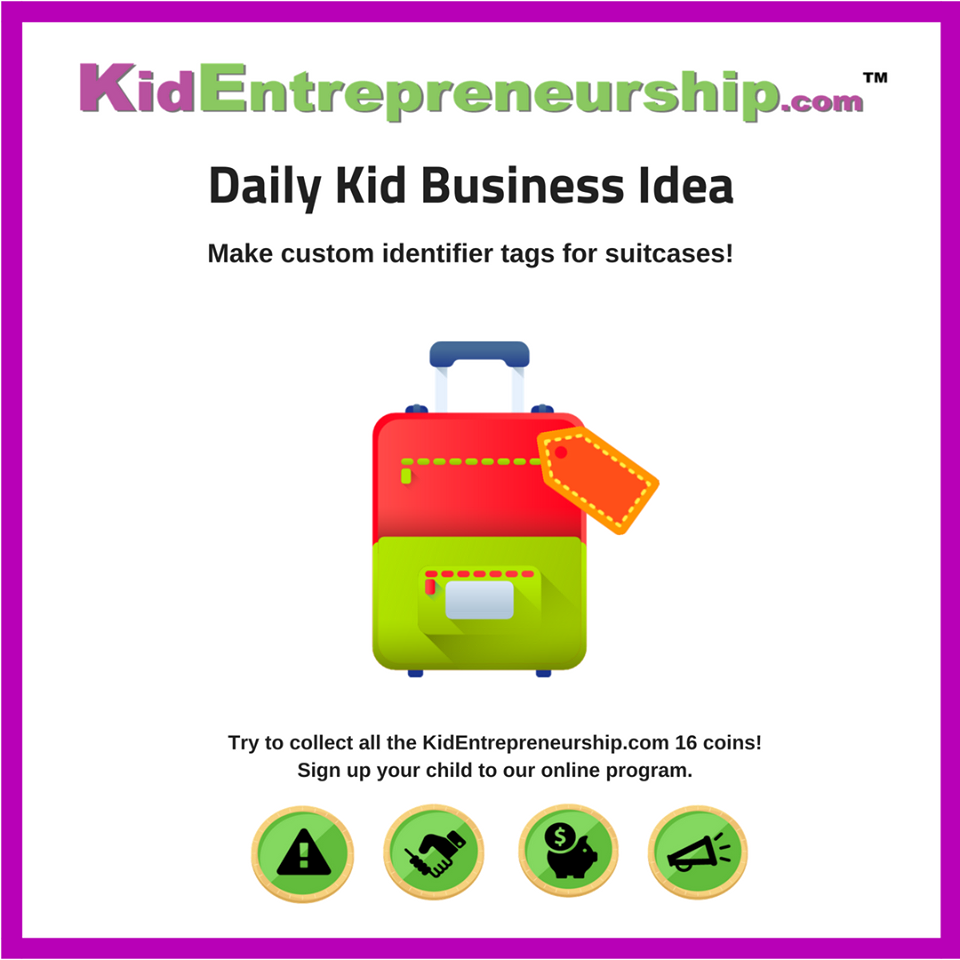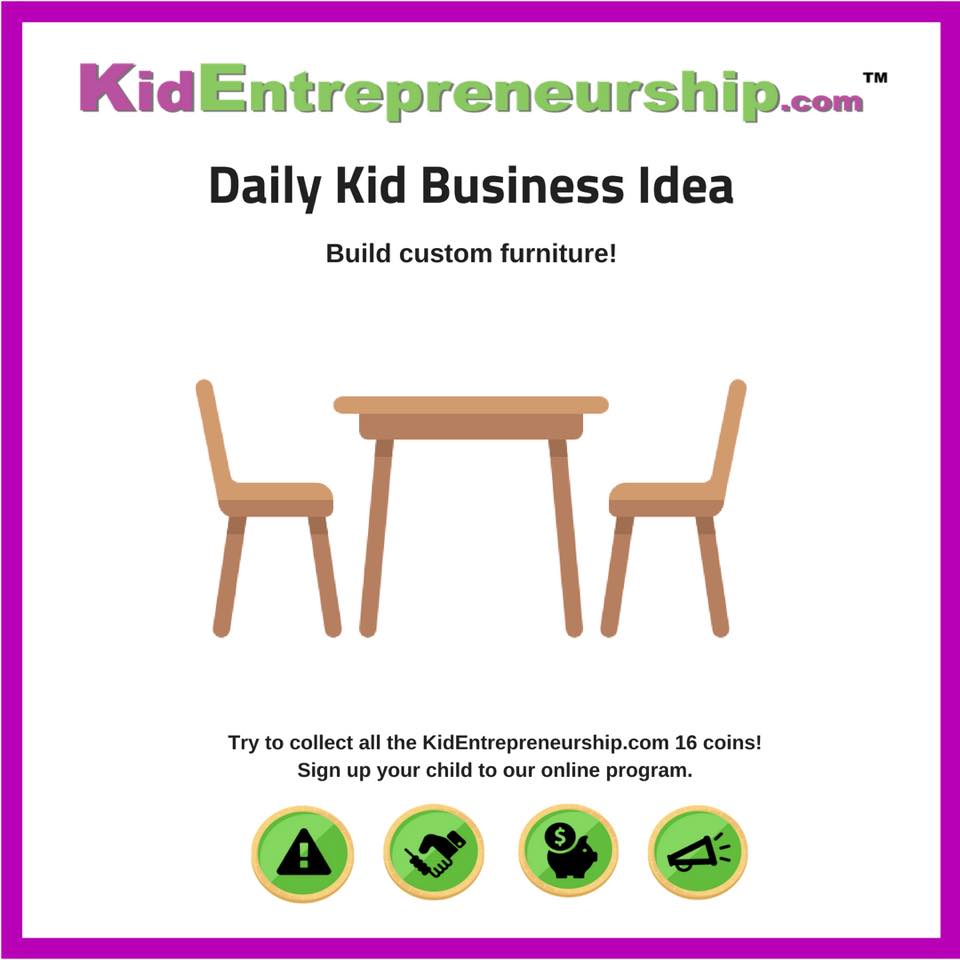 Furniture
Kid Business Ideas
For the future carpenter, a great kid business idea is to build furniture. Your child can build chairs, tables, dressers, and cabinets. Teach them how to be responsible with tools. There must be a guardian supervising at all times.
Chicken Coops
Kid Business Ideas
There is a growing trend towards eating organic food. You might have people in your neighborhood that are interested in having a few chickens in their backyard. If you are familiar with designing chicken coops, then pass down the knowledge to your child as a first business. To market, your child can create toy models of different chicken coop designs so customers have a better idea what to buy.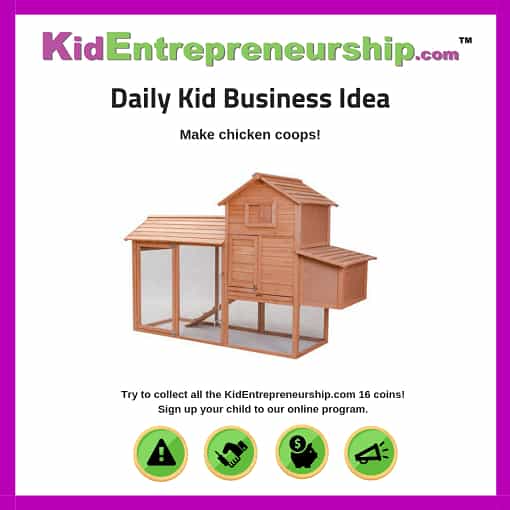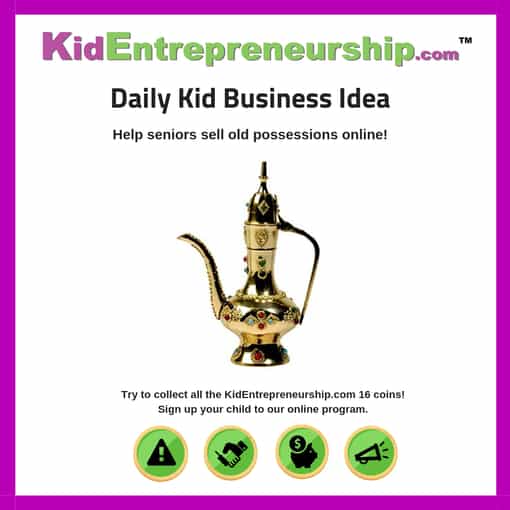 Sell Senior Possessions
Kid Business Ideas
Seniors in your neighborhood may have old possessions that they are trying to remove from their house. These possessions may old value if they are rare antiques. You can start a kid business helping seniors sell these possessions online and take a commission. Helpful websites include
Ebay
and
Craigslist
.
Friendship Bracelets
Kid Business Ideas
Friendship bracelets are very popular among children. If your kid enjoys making them, they can start a business by selling custom friendship bracelets online. Use different colors for holidays and sport teams or you can focus on using recycled materials.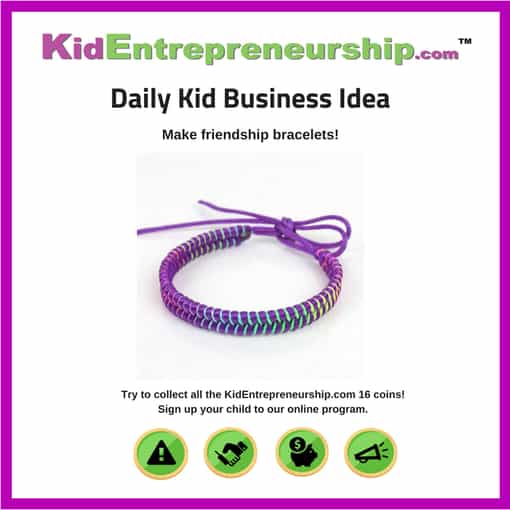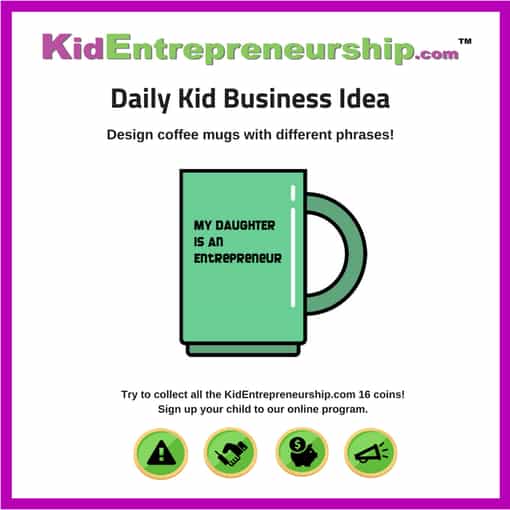 Coffee Mugs
Kid Business Ideas
Millions of people around the world enjoy waking up to a cup of coffee. Most of these coffee mugs have unique designs or sayings. Your child can start a kid business designing clever coffee mugs. You can design coffee mugs on websites like
VistaPrint
.
Drink Coasters
Kid Business Ideas
Drink coasters are very common in homes and restaurants. This kid business idea is great for a child who enjoys crafts. Pick your desired material and create unique designs. Your child can even create branded coasters for local restaurants. Approach the restaurant with a sample design to see if they would be interested in purchasing your coasters.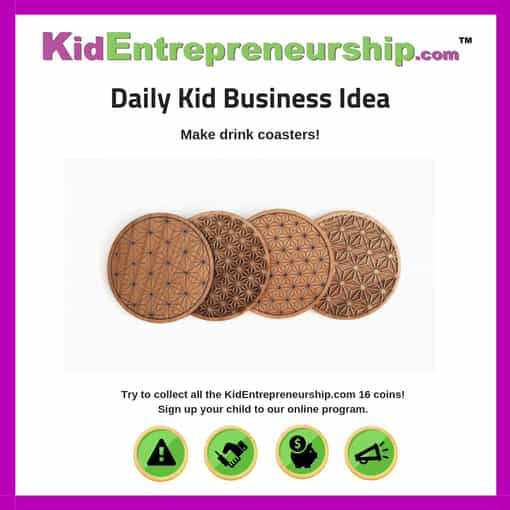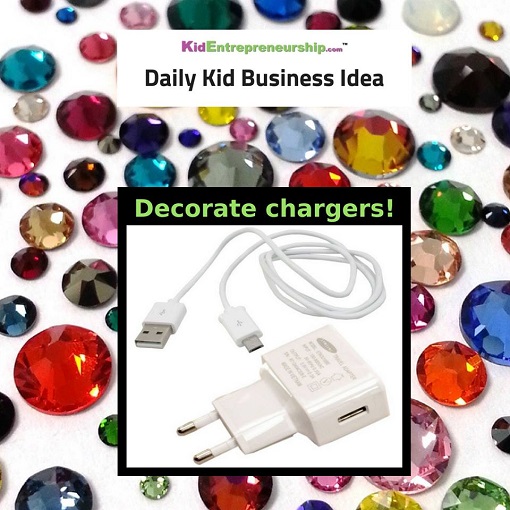 Decorate Chargers
Kid Business Ideas
Does your child enjoy decorating their phones and other devices with gems? They could start a kid business doing this for their friends and family members. This kid business idea requires minimal expenses and materials can be purchased from your local craft store. Any device can be decorated… even computer screens!
Garden Decorations
Kid Business Ideas
Another creative kid business idea is to make garden decorations. Your child can make numerous designs from a butterfly, hummingbirds,  fake flowers, and garden gnomes.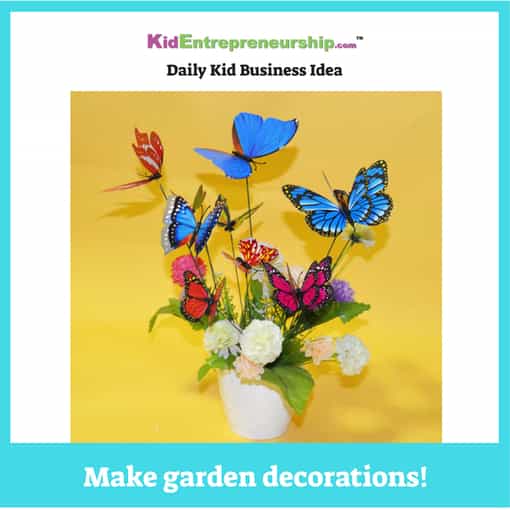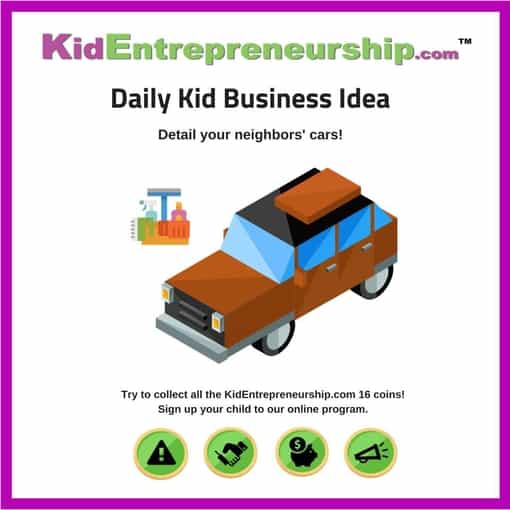 Detail Cars
Kid Business Ideas
This kid business idea is easy to start in your neighborhood. Simply place flyers on car windshields to advertise your service. Your child can set different pricing tiers based on the amount of detailing. There can be a window and tire cleaning package. Or a full detail package.
Does your child enjoy writing? Have them start a blog. Blogging is a fantastic past time that allows children to reflect on their thoughts and write about their passions. Once your child builds an online following, reach out to companies to advertise on your website.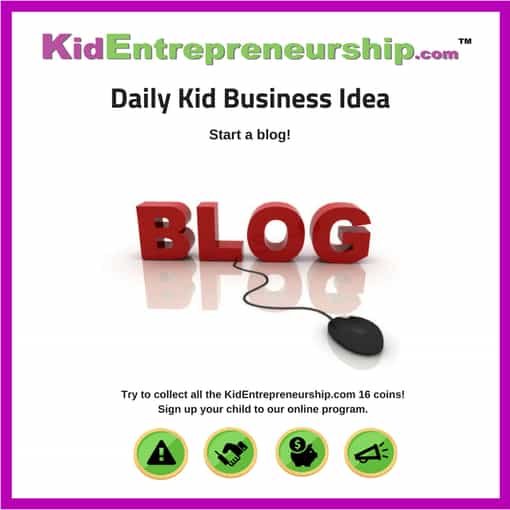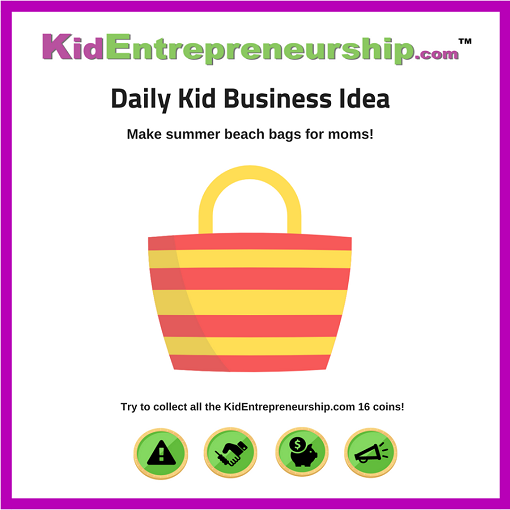 Summer Bags
Kid Business Ideas
Summer bags are popular accessories for women at the beach. These bags are meant to carry towels and sun screen without worrying about getting sand inside. Your child can create summers bags with bright colorful designs.
Cuff Links
Kid Business Ideas
Another craft kid business idea, making cuff links might be perfect for your child. Cuff links can be created with different designs based off the season. For example, during the summer you can create cuff links with shells. Don't be afraid to create something unique to stand out from what's already available.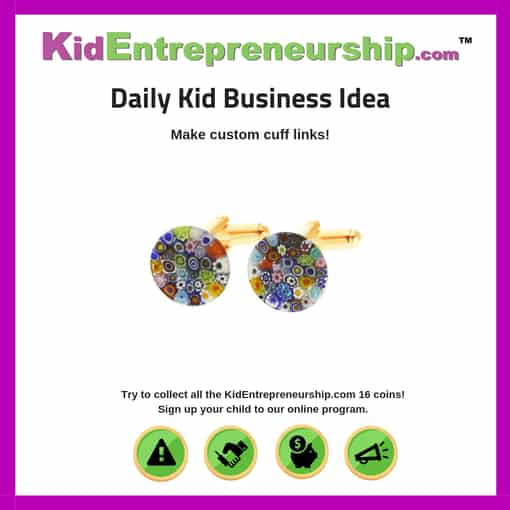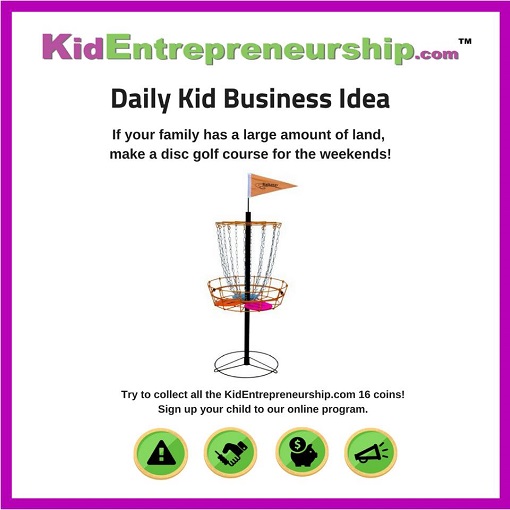 Disc Golf Course
Kid Business Ideas
If you have enough land on your property, your child can make a disc golf course. This kid business is perfect for the weekends and can be open year round or just during the summer. Make fun courses with different obstacles. Brand the discs that players use with your child's business name and social media tags.
Mother's Day Cards
Kid Business Ideas
Is Mother's Day around the corner? A great kid business idea is to make custom Mother's Day cards. Have your child go to your local craft store to find different materials for unique designs. Be creative! Maybe your child can make huge cards or tiny cards that can fit inside a mother's wallet.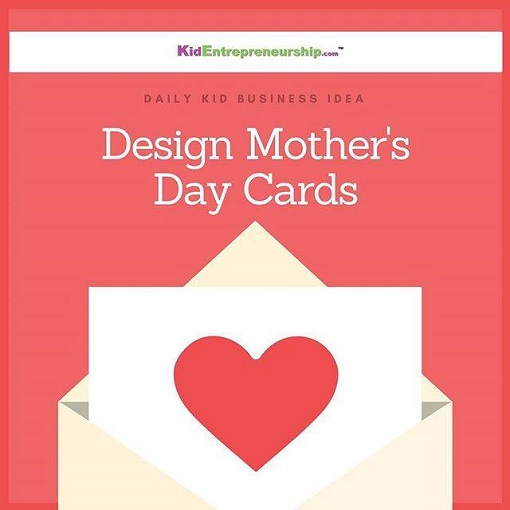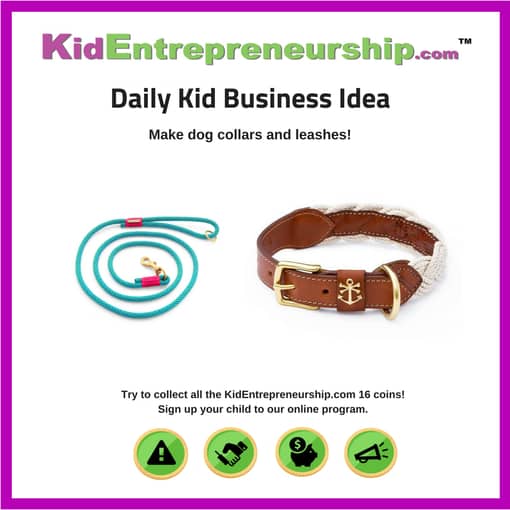 Dog Collars and Leashes
Kid Business Ideas
Another great kid business idea for children who love dogs. Your child can make dog collars and leashes. These can be made with simple materials on a low budget. Have your child creative with the designs. For example, on the collars include a locket where the owner can place a picture of the dog when it was a puppy.
Slime Youtube Channel
Kid Business Ideas
For this kid business idea, the whole focus is on how create engaging slime videos. Film your child when they are making a new type of slime. Have videos that show how slime reacts to different enivroments. What happens when you leave slime in a car all day? What happens when you leave slime in water for a week?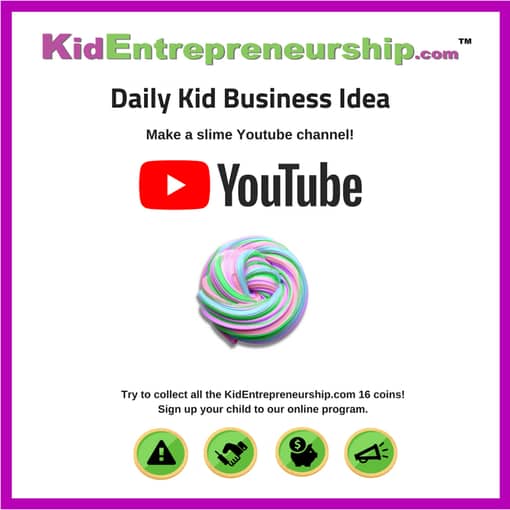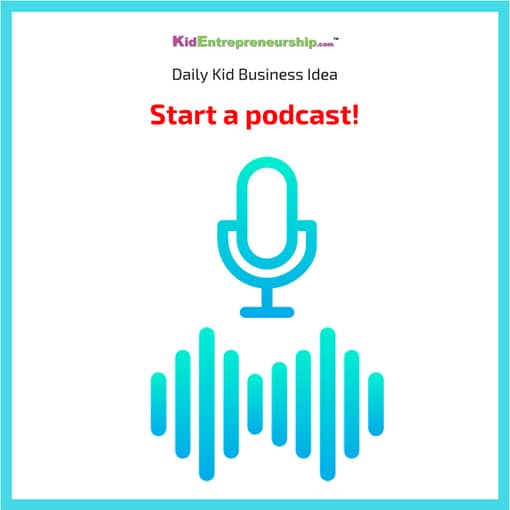 Start a Podcast
Kid Business Ideas
Does your child excel in communication? They might find success in starting a podcast. Before you begin this kid business, think of a what the focus of the podcast will be. Don't have your child just talk about random subjects each recording. Instead, have your child focus on local sports or successful kids in your city. After your kid has created a following, reach out to local businesses to see if they would be interested in advertising.
Make Car Games
Kid Business Ideas
Are we there yet? A parent knows that children need to be entertained on long road trips. Your child can create a business selling car games. Have them think of creative games that requires minimal pieces to play. To help think of ideas, have your kid think of existing games and how they can be modified for the car.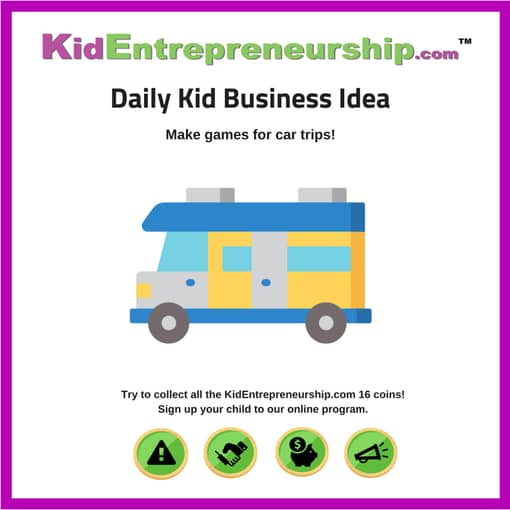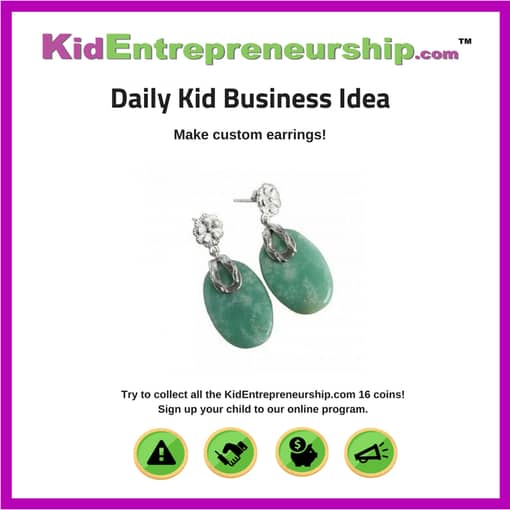 Custom Earrings
Kid Business Ideas
Does your daughter like jewelry. She can create a kid business making custom earrings. Earrings are simple product to build. Make sure the earrings are sterile so they do not infect people's ear lobes. Social media is a great way to promote your child's earrings.
Dog Houses
Kid Business Ideas
Dog houses are very popular across america. Sometimes, dog houses are for decoration instead of being used. Your child can start a kid business making dog houses. Adult supervision will be required since your kid will be working with construction materials.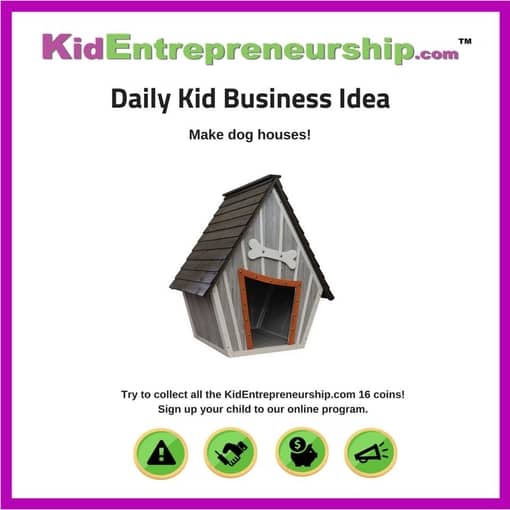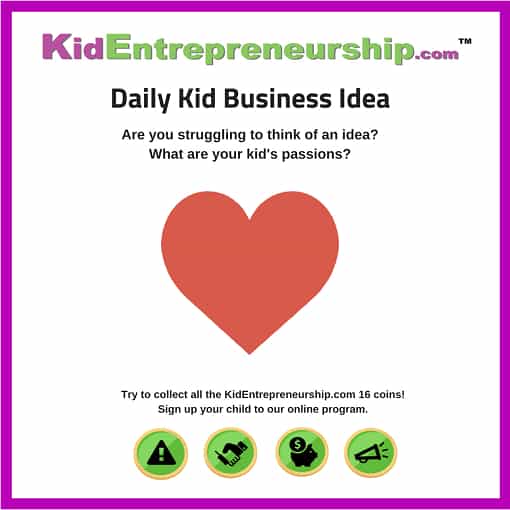 Relate To Their Passions
Kid Business Ideas
Above all, a business idea should be related to a kid's passions. If a kid already enjoys something, he or she is more likely to stick with it over time. Any passion can be turned into a business idea. Remember that at a young age, an idea can become more successful if it requires limited materials to launch.
Still can't think of a kid business idea?
Don't have your child spend too much time thinking of their business idea. This will be their first kid business so explain to them that the expectation is not for them to create the next Facebook or Nike. Kid entrepreneurship is similar to painting portraits or playing baseball. It will take time in order for them to get better and refine their business skills. The first time you paint a painting you probably aren't expecting it to be displayed in an art museum. Similar to the first time your child picks up a baseball bat, you aren't expecting them to be drafted by the Los Angeles Angels of Anaheim. Have your kid choose a quick idea that requires minimal startup costs. The idea should be something they would enjoy working on every day. If your child doesn't like cooking, then don't suggest that they start a neighborhood bakery. One of the best things about entrepreneurship is that it can be applied to any activity. For example, if your child enjoys playing video games then suggest to them that they start a Youtube channel that focus on how to beat difficult levels. They could even start a website that reviews new video games. There are limitless kid business ideas that can be applied to any passion.
After your child chooses an idea, you need to start creating milestones for them to achieve. For example, there can be milestones for buying all build materials and completing the first prototype. Your child's end goal should be to make at least one sale to a stranger. It marks the official launch of your kid's idea into a real business. In fact, most startups never even achieve this milestone. Instead, they focus too long on perfecting their idea but never actually selling it to a customer. Some startups spend too much money on building products but eventually find out that their customers want something different. Your child should quickly build a couple prototypes then start trying to sell. During the selling process, your child will learn what customers really want and how to improve their product or service.
If you still need help thinking of a kid business idea, then download our KID BUSINESS IDEA GUIDE below. It will walk your child step by step on how to think of a kid business idea.
How do I know if another kid has my business idea?
Most likely, another kid probably has the same idea as your child somewhere in the world. Especially, if your kid's business idea is something common like a lemonade stand or car wash. However, this should not impede children from launching. Remember that your child should not be trying to create the next Toyota or Walmart. They are trying to learn the art of entrepreneurship. No matter your child's idea, they will always have some degree of competition in the marketplace. Competition is actually a good thing because it shows that someone else saw the value in their idea and was able to sell it to customers.
If you are interested in researching ideas to your kid's business, simply type your child's relevant keywords onto a search engine to find similarities. If you do find a similar kid business, try to reach out to them if they have a website or social media account. They will probably love to give your child feedback and share their experience.
Should I tell other children about my kid business idea?
Don't worry about someone stealing your business idea. There is something called a Non Disclosure Agreement (NDA) that legally requires someone not tell disclose information they told you if they sign the document. However, since children cannot legally be bound by a contract that they signed, this is pointless. Anyways, it actually helps you when you tell others about your business idea. Why? Well because you can get feedback from them about whether they would use your product or service. This can be valuable feedback especially if your business sells to children.
Do not be scared to tell people about your idea. In the business world, it is built upon connections. Who knows… maybe the person you tell your idea to knows someone that can help your business. For example, if you're trying to market your idea through Instagram and you tell it to someone who has a friend with over 100,000 followers, they might be willing to convince their friend to make a post about your business.
Get the word out about your kid business idea. Don't hold back.
Does my kid business idea require a permit or license?
Depending on your business, you may be required to have a permit or license to sell your product or service. Have your child look on your city's website to review regulations. If you still have questions, consult with an attorney. Legalzoom.com is a great resource for you and your child to ask questions on business regulations.   
What kid business ideas have the highest chance of being successful?
Any business can be successful if there is demand for the product or service. However, as a child the best business ideas are the ones that have minimal expenses and service customers that are close to the child's home. Adults want to support businesses started by children. It is a lot more effective to knock on a neighbor's door to ask for a sale then to randomly post your product on the internet with a few hashtags. You get to build a relationship with your customers when they live close by which allows you to easily ask for feedback and get a repeat sale. When you approach a prospect, it also helps to have samples of your product with you so the customer can interact with what you made.
Children always should be approached by a guardian when they go door knocking around a neighborhood.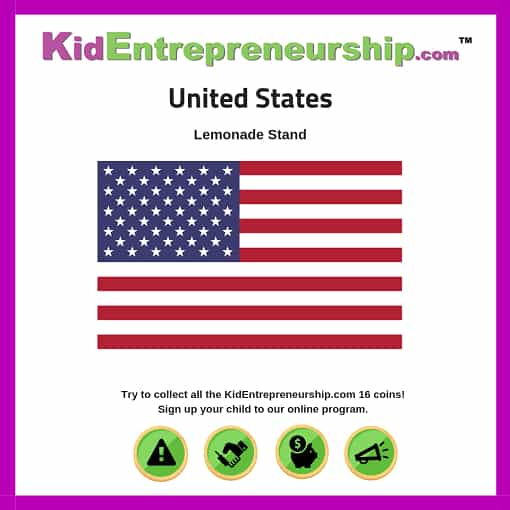 United States
Popular Kid Business Ideas by Country
The most popular first business for children to start in the United States is a lemonade stand. Although there has been recent controversy regarding the requirement of a permit it certain areas, this idea is sure to draw customers especially on a hot summer day.
Mexico
Popular Kid Business Ideas by Country
A popular candy among children in Mexico, this kid business idea is simple to start. You can easily buy the gum in bulk and sell them to friends, family, and your neighbors. Do not give these to infants since it may be a choking hazard.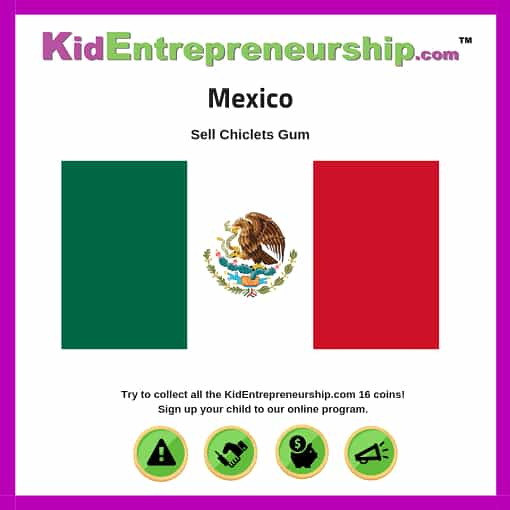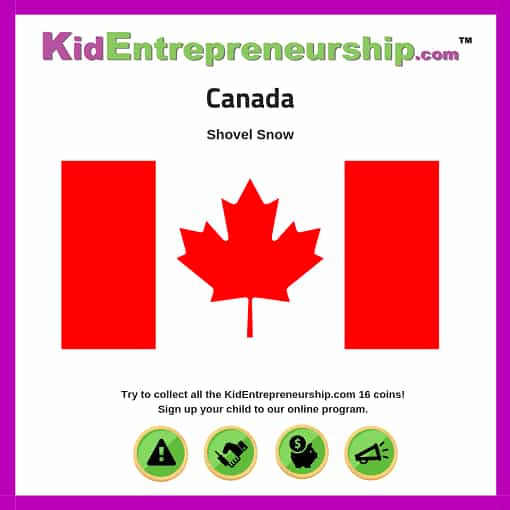 Canada
Popular Kid Business Ideas by Country
Canada definitely has its fair share of snow each year. Keeping your driveway and doorsteps dry can be a hassle. This is a popular business idea among kids in Canada since your customers live right next door to you and you only need a shovel!.
High Startup Cost Ideas
Every business requires costs to get started. Even if you want to just be a mime on the street, you still need to pay for your food and rent. As a child, you can increase the likelihood of your business idea being successful by having minimal expenses. You don't want to start a kid business that needs $15,000.00 to get off the ground. Starting small is a big lesson to learn in entrepreneurship. LAUNCH CHEAP. Build a few prototypes of your product and try to sell them before you invest more money. Your kid business idea should not have more than around $200 in costs to start. With this money, you'll have enough to buy materials and market your product and service. Kids can easily save up this money from a few months of chores and holiday money.
If your child is persistent about starting a business that has high startup costs, do not discourage the idea away but instead have them complete an exercise. The exercise is finding a way to start their business with only $200. For example, let's say your kid wants to start a neighborhood bakery. First, start off by identifying their biggest cost for the idea, this time being building rent. Ask them if there is an alternative to having to pay thousands of dollars a month to operate out of a building. They might say they could sell out of a food truck. This is good! They started to bring down their costs. Now, ask them again what is a way for them to bring down their costs even more. Do they have to sell out of a truck? After all, a truck requires you to pay for gas, truck payments, and insurance. They also are only operating in one neighborhood. Why do you need to have a truck for one neighborhood? After continuing to break down costs with them, they might see that the cheapest way for them to start a neighborhood bakery is to cook inside your kitchen and deliver the products to homes.
Long Build Ideas
A common mistake that first time kid entrepreneurs make is spending too long building their idea. If you spend to long building the idea, you don't get to get feedback from your customer during the sales process. You might be building something that nobody wants. Children should choose a business idea that is simple to create and sell. Don't choose ideas that will take months to complete. For example, many kid entrepreneurs want to build a mobile application, however, they don't realize how long it takes to program even the simplest app.
Build your first couple prototypes, then go out and SELL. It shouldn't take you longer than a couple months to prepare the launch of your kid business. If you could build your idea faster with the help of a friend, then consider bringing them on as a co-founder.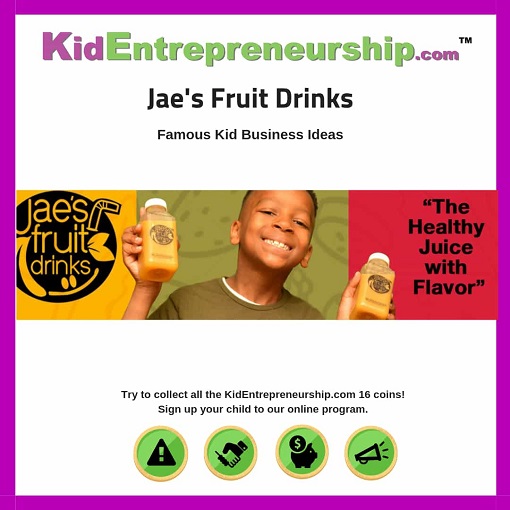 Jae's Fruit Drinks
Famous Kid Business Ideas
One day me and my mom were talking and I told my mom I wanted to start a business that acquired healthy smoothie, juices and drinks. I was 5 years old. She didn't take me seriously until I came back to her at 8 with a plan! I want to inspire other kids and let them know that its better to eat healthy. We all love chips, but it's not really that good for you so hopefully i can encourage children my age to eat and drink healthy!
You can contact this kid entrepreneur at jaesfruitdrink@gmail.com.
Is your child interested in starting a similar kid business idea to Jae? Have them research this business on Jae's Instagram page @jaesfruitdrinks
Inspiring Vanessa
Famous Kid Business Ideas
Hey there! My name is Inspiring Vanessa and I am 12 years old. I am an international, multi award-winning motivational speaker, YouTuber, author and child presenter! I do vlogs about Inspiration, Travel, Movie premieres and more. My main speaking topics are confidence and inspiration!
Is your child interested in starting a similar kid business idea to Vanessa? Have them research this business on Vanessa's Instagram page @inspringvanessa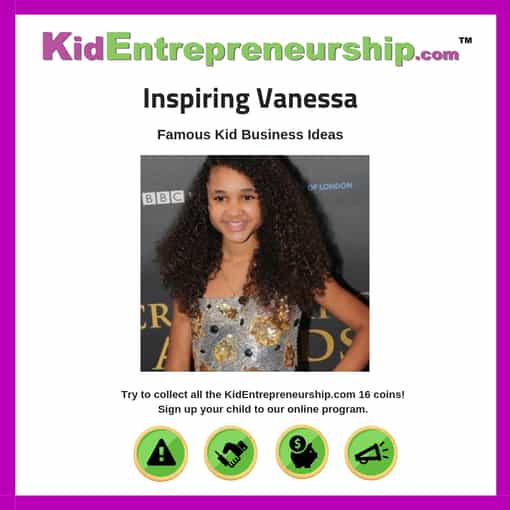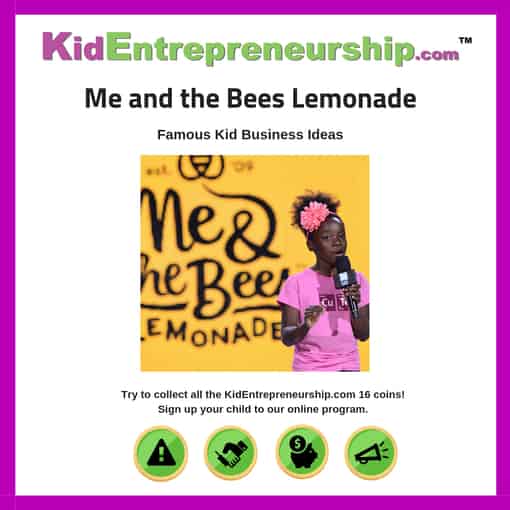 Me & the Bees Lemonade
Famous Kid Business Ideas
When I was just four, my family encouraged me to make a product for a Children's business competition (the 
Acton Children's Business Fair
) and Austin 
Lemonade Day
. So I put on my thinking cap. I thought about some ideas. While I was thinking, two big events happened.  I got stung by a bee. Twice.  Then my Great Granny Helen, who lives in Cameron, South Carolina, sent my family a 1940's cookbook, which included her special recipe for Flaxseed Lemonade. 
I didn't enjoy the bee stings at all. They scared me. But then something strange happened. I became fascinated with bees. I learned all about what they do for me and our ecosystem. So then I thought, what if I make something that helps honeybees and uses my Great Granny Helen's recipe? 
That's how Me & the Bees Lemonade was born.
Is your child interested in starting a similar kid business idea to Mikaila? Have them research this business on Mikaila's website meandthebees.com
Needs
The first way to think of a kid business idea is to identify needs.
I love the phrase "Necessity is the mother of invention." If you were a lion and you loved catching giraffes, imagine if you could make yourself some stilts to stand on and chase giraffes. I know it's a funny way to look at it, but you get the idea. It's improvising something that creates a solution to a need that you see people have today.
Here's a great kid business idea met by a need. This is the one-handed bottle opener. Why would you ever need that? Right? Well, if you ever had a broken hand, or a broken finger, or a broken thumb. It's probably pretty hard to open a bottle because you have to hold it tight with one hand and then untwist it with the other hand. With this invention, you can do both things. Hold the bottle and open it with one hand. That's a need that was met by the one-handed bottle opener. I love this kid business idea.
Here's another kid business idea met by a need. If you're exercising, you might have on you a bottle of water, car keys, cash, credit cards, and it may be difficult to store these things close by. Many gym shorts or running shorts don't have pockets. This awesome device lets you carry your water and gives you room for your other items when you exercise.
As a child, you can do the same thing.
Tragedy
The second way to think of a kid business idea is to find solutions to stop tragedies. 
For example, Vitali Bramani is the inventor of the rubber sole hiking boots. After a tragedy in Italy where six climbers died, he went to work for Pirelli, a tire manufacturer. While working at Pirelli, he thought of placing rubber soles on the hiking boots. His invention really changed the face of climbing as we know it today. These rubber sole boots ended up saving lots of lives after being inspired by a tragic event. The old shoes just had leather on the bottom and were called hobnailed boots. These old boots did not have as strong of a grip as Vitali's new rubber invention. 
In 1954, an Italian expedition was able to climb K2, the second highest mountain in the world, for the first time wearing the Vitali's shoes. The expedition was able to approach and climb the different sections of the mountain.
Kid Business Ideas
(Continued with no images)
Tool Boxes
Kid Business Ideas
Does your child enjoy hanging around the garage near tools? Is he or she always building something new? They might be interested in starting a kid business selling tool boxes. Tool boxes can be made with materials from your local Home Depot. Have your kid make efficient areas in the box for storing different tools. There can be a safe place to store nails and an open area for grabbing a hammer.
Clean Boats
Kid Business Ideas
Do you live in a neighborhood near a lake? Do most of your neighbors own a boat? Cleaning boats is a great kid business idea for this type of environment. Make sure your child cleans the boats when the temperature is not too hot outside so they don't overheat. Always apply sunscreen. To market this kid business idea, post flyers near the boat gas station on the lake.
Car Antenna Accessories
Kid Business Ideas
Have you ever seen cars that have fun decorations on their car antennas? Your child might laugh at some of the crazy designs. A great kid business idea is to start selling custom made antenna accessories. You can create accessories for different holidays like a red light bulb for Rudolph or a turkey for thanksgiving.
Pet Sit for Neighbors
Kid Business Ideas
Paying a center to take care of your pets on vacation can be expensive. Especially for families that consistently travel. Your child can advertise their pet sitting service in your local neighborhood. Make sure your child is safe around the pets and understands how to properly take care of them.
Trick or Treat Buckets
Kid Business Ideas
Is Halloween around the corner? Parents will sometimes buy their children decorated buckets so they can store their candy as they walk around the neighborhood. A kid business idea for your child can be creating trick or treat buckets. One bucket design can be to make it look like a pumpkin.